Yoga Teachings weaves with Native Traditions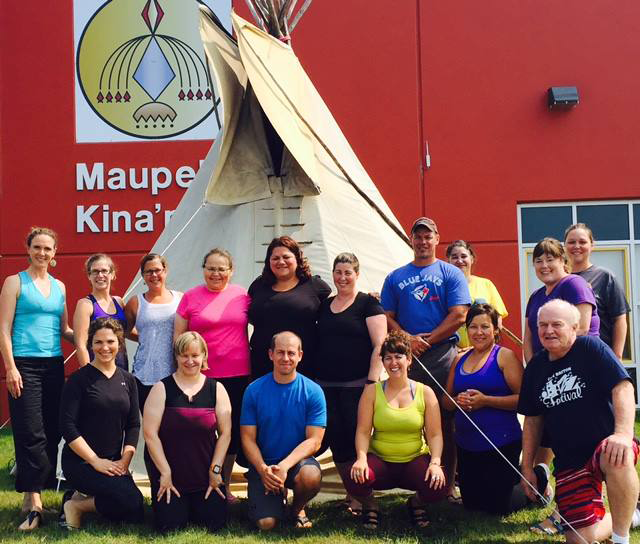 Over the past two years, teachers from MK schools have been participating in training that will help equip them to teach yoga in their schools. The Program "Yoga In Schools" was created by Jenny Kierstead and Blair Abbass of Breathing Space Yoga Studios, and is the first yoga teacher program in North America to be implemented into the public school system as a credit course. Hundreds of teachers are now trained in such programs as Yoga for Autism, Yoga for Special Needs, etc. and offer them in schools across Atlantic Canada. 
During her 10 years of teaching Phys. Ed, Jenny noticed that the needs of youth exceeded their existing course offerings. She noticed students were hungry for true connection, non-competitive movement activity, and stress management tools. Janean Marshall, Students Services Coordinator at MK, has spearheaded the integration of this program into MK schools, and says she wanted to bring yoga to classrooms because it's important to teach students self-regulation strategies. 
"Our classrooms are busy places with lots of needs, and to return to something so fundamental as breathing and stretching is essential," said Marshall. "Incorporating learning opportunities in the classroom where students are learning while moving improves students' total well-being while decreasing challenging behaviours."
The Yoga in Schools program includes Yoga (grade) 11, Yoga 11 Lesson Plans, Yoga (grade) 12, Yoga for Autism, Yoga for Special Needs and Elementary and Secondary Yoga Posters through Thompson Publications Inc. Teachers who have completed this PD are reporting that their teaching careers have been transformed, giving them a renewed sense of purpose and a whole new level of connection with their students. Outside of the school environment, their personal lives are also being deeply enriched by these powerful teachings. 
Youth have reported new levels of inner peace, personal connection, and self empowerment. Students are quitting smoking, breathing more deeply, sleeping better, and applying their skills to exam anxiety. With a new desire to treat their bodies with more care, many are proudly making healthier lifestyle choices, like eliminating consumption of junk food. They are also experiencing the benefits of unplugging from technology daily to spend time with others or immersed in nature. If that wasn't enough, teachers and support staff are noticing the entire culture of their schools are changing, as students demonstrate an interest in communicating more compassionately and respectfully with their peers and families.
"We now have 16 certified to teach the yoga studies 11, yoga for special needs, and yoga for Autism," said Marshall. "We have a very dedicated group of teachers, aides, and principals that see the benefits of yoga in our schools." 
"Teaching students yoga helps restore balance in their minds and body and helps see themselves as the amazing youth that they are! I never anticipated all the applications yoga has in the classroom, but through Blair and Jenny's guidance, the possibilities are endless..." - Marshall