Conferences
Are you ready to change your student's lives with the power of yoga and trauma sensitive mindfulness?
Come learn how teaching yoga/mindfulness can bring joy to your school!
This year's 13th annual Yoga in Schools Conference provides educators with a rare opportunity to learn how to foster physical, mental and emotional wellbeing in the classroom. From workshops ideal for beginners as well as others for certified yoga instructors, this conference offers exciting programming for all levels. You'll leave with the tools and the passion for making positive change in your school environment and your community.
The conference is hosted by multi-award winning educators Jenny Kierstead and Blair Abbass, the founders of Yoga in Schools and authors of 10 Yoga in Schools programs.
Last year's conference attracted participants from across North America, and the feedback from attendees was fantastic. No matter what your level of expertise is, or what age you teach, this conference will be life changing for you and your students.
 (This Conference and full YTT can now be done online email info@BreathingSpaceYogaStudio.ca for details)
2021 Yoga in Schools Canadian Summer Conference

This summer's 2021 Yoga in Schools Canadian Conference, in Halifax NS, is better than ever with like-minded people coming from various corners of the globe. This year's theme is  Trauma Sensitive Mindfulness and Self Regulation practices for the classroom/home  with all workshops designed to help students  deal with everyday challanges of life. Workshops will include theory (and handouts) to nurture the mind, social engagement to foster emotional intelligence and of course, movement practices to heal and restore the body.  Topics include:

First Nations mindfulness practices
Trauma-informed Yoga and Mindfulness
All new Yoga classes and mindfulness practices for the school and home
Mindfulness for facing challenges and managing stress
Using mindfulness practices to build  self-esteem for students with learning differences. 
ACT(Acceptance Commitment Therapy) workshop

This year's 13th Yoga in Schools Canadian Conference is now part of our (optional) full 200hr YTT certification from July 5th to 24th! Participants will be trained in and receive Yoga 11, Yoga for Autism and Yoga for Special Needs Manuals. ( Click on Teacher Training above for more info)

Last year's conference attendees reported 100% satisfaction from the experience. Participants have found the Yoga Conference/Full YTT to be as much of a personal retreat as it is a professional development course. 
Research has shown that yoga enhances students lives at every level, physically, mentally, socially and emotionally, helping them to make healthier lifestyle choices, become more skillful in relationships, gain control over their impulses, while supporting their learning. Are you ready to bring this transformational tool into your school and see the positive benefits that it brings to your students?
Investment for weeklong training: $600.00+hst.
Location: Chocolate Lake Hotel, Halifax, Nova Scotia 
Date: July 19th - 22rd, 2021
Register now by calling 902-444-9642 or emailing info@BreathingSpaceYogaStudio.ca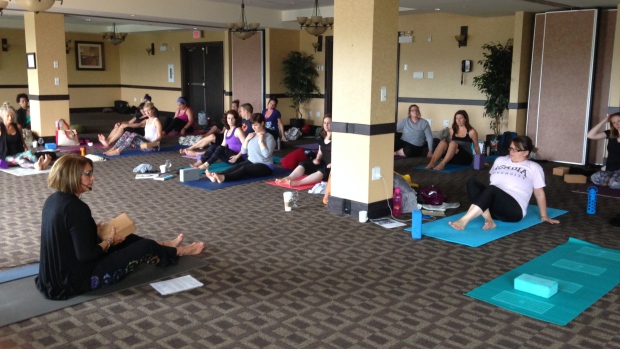 Nova Scotia Teachers Learning Yoga to Curb Problems in Class