Conferences
Are you ready to change young lives with the power of yoga?
Come learn how teaching yoga can bring joy to your school!
This year's 12th annual Yoga in Schools Conference provides educators with a rare opportunity to learn how to bring the power of yoga into their schools and classrooms. From workshops ideal for beginners as well as others for certified yoga instructors, this conference offers exciting programming for all levels. You'll leave equipped to make positive change and charged up to do so.
The conference is hosted by multi-award winning educators Jenny Kierstead and Blair Abass, the founders of Yoga in Schools and authors of eight school programs.
Last year's conference attracted participants from Labrador to Nunavut, and the feedback we've received from attendees has been fantastic. No matter what your level of expertise is, or what age of children you teach, this conference will be life changing for you and your students.
Join us in Halifax from July 16th through 19th at the Chocolate Lake Hotel to participate in evidence-based programming that has been piloted with great success in the school system. Topics include:

Yoga for Autism
Yoga for Special Needs
Stress Management
The PSP Yoga Grade 11
Yoga and Native Studies
Girl on Fire Empowerment Program
Mindfullness (as launched in the Native School Board)
Research has shown that yoga enhances students lives at every level, physically, mentally, socially and emotionally, helping them to make healthier lifestyle choices, become more skillful in relationships, gain control over their impulses, while supporting their learning. Are you ready to bring this powerful tool into your school and see the positive benefits that it brings to your students?
Investment for weeklong training: $500.00+hst.
Register now by calling 902-444-9642 or emailing info@BreathingSpaceYogaStudio.ca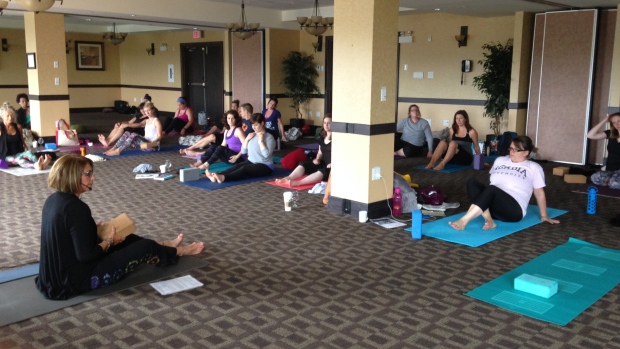 Nova Scotia Teachers Learning Yoga to Curb Problems in Class